Spend the night in what was once part of an old fort and then the home of the owner's great-great-grandparents. Three-foot thick adobe walls mean it's cool in the summer and cozy warm in the winter! If you're looking for a quiet place to rest and relax, this is the place! While you're here, be sure to visit our Capilla (small chapel)!
Full Breakfast - $15.00 per person + tax - Sack Lunch $15.00 per person + tax (NOT AVAILAVBLE ON SUNDAY) - See rates for more info.
Wifi available, but connection is subject to bad weather & other atmospheric conditions!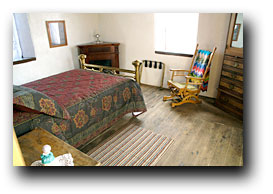 Cuarto Epifania - Bedroom with 1 queen bed and private bathroom - $120.00 + tax - Continental breakfast
Cuarto Don Juan - Bedroom with kiva fireplace, 2 double beds and private bathroom- $140.00 + tax - Continental breakfast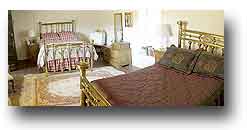 This beautiful apartment has a seperate bedroom, private bathroom, will sleep up to seven and has a full kitchen! $170.00 + tax - Continental Breakfast. Full Breakfast $15.00/person - Sack Lunch $13.00/person (NOT AVAILABLE ON SUNDAY). See rates for more info.
---
WELCOME TO CUARTO EL FUERTE AT CASA VIEJA
For reservations or more information: vigar106@gmail.com- 505-249-7597 or 505-274-3213 - For directions, click here.
SENIOR, EDUCTOR & MILITARY DISCOUNT 10% - ASK FOR GROUP & HUNTER RATES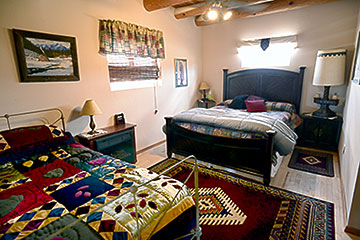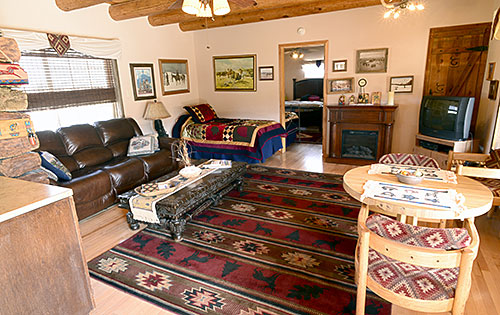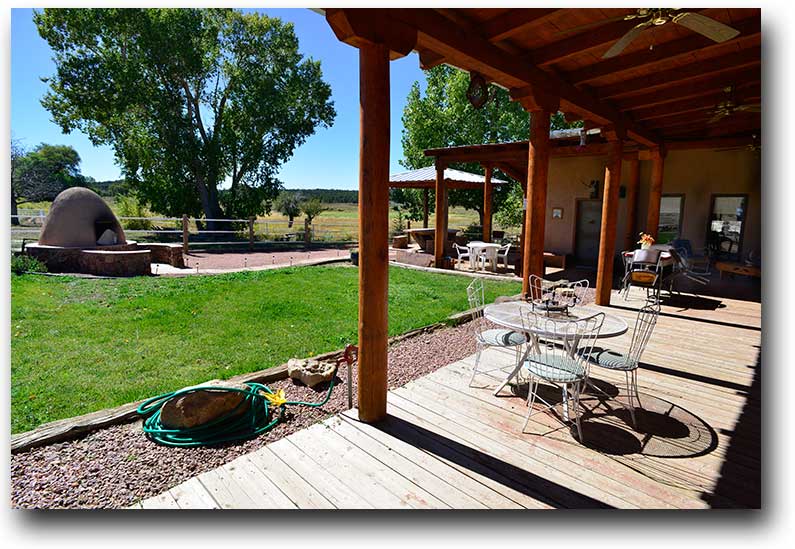 The view from the porch of Casa Vieja looking out toward the ranch, the covered picnic table to the right and an authetic, Pueblo Horno (stove) to the left. The Horno is still used today in Indian Pueblos around New Mexico to bake bread.
Whereas an electric or gas oven can simply be set to 350 degrees Fahrenheit, the traditional horno requires particular skill. For these mound-shaped adobe ovens, which Pueblo people have used for centuries, bakers light slow-burning cedar to heat the oven from within.